Show Name:
Healthplex Expo 2023
Natural & Nutraceutical Products China 2023
Date & Venue:
19-21 June 2023
NECC  Shanghai
Co-located:
Natural and Organic 丨Plant-based
Food Processing and Packaging | Starch
Health Ingredients | Food Ingredients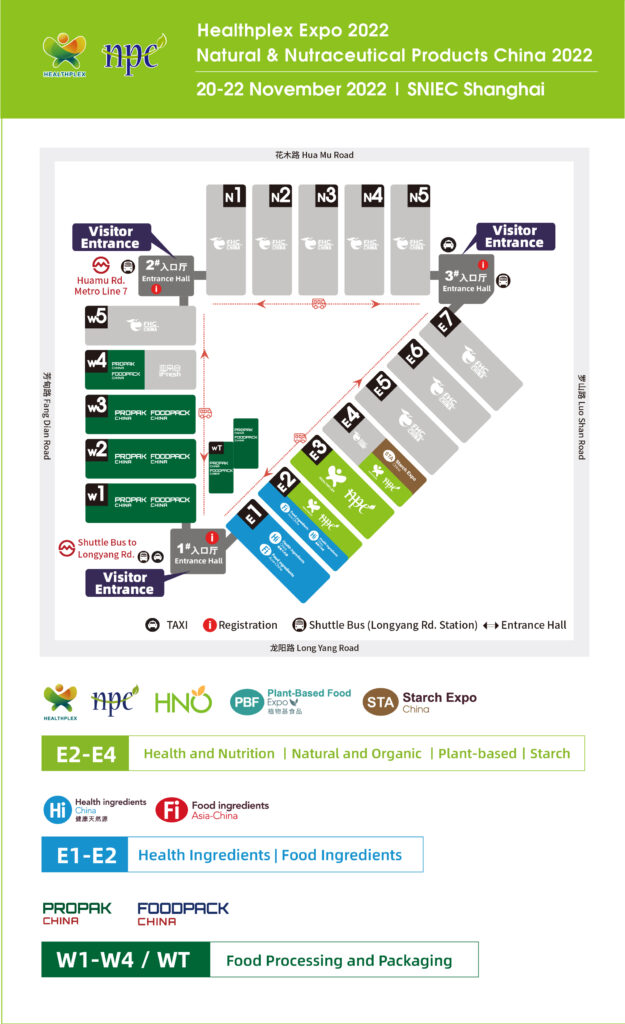 Product Category:
Health Food,TCM & Nutritions,Beauty & Skin Care, Healthcare Products, 3rd Party Services
Show Zones:
Overseas Zone, TCM Zone,Regional Pavilions,Emotion Management Zone,Maternity Baby Zone,Beauty Zone
Visitor Source:
Wholesalers, agents, dealers/distributors, import/export traders, manufacturers, franchised stores, nutritionists, experts, researchers, industry organizations/ associations, buyers/franchisees, technical consulting, pharmacies, supermarkets, etc.

Show Profile:
"Healthplex Expo 2023 / Natural & Nutraceutical Products China 2023" will be postponed to 19-21 June 2023, in NECC Shanghai. Co-located again with Hi & Fi Asia-China, Propak & Foodpack China, Starch Expo, HNC will be constituted to the 170,000 sqm food industry chain event in Shanghai.
HNC has been moving forward steadily throughout the year, always with the responsibility of revitalizing the nation's health industry, building an efficient, business, innovative, optimized platform for business cooperation and product launch, policy interpretation and knowledge convergence, technology exchange and outreach for all exhibitors and visitors.
Organizers:
CCCMHPIE
Sinoexpo Informa Markets
Informa Markets
Trade Development Bureau of Ministry of Commerce
Co-organizers:
Committee of Health Care Consultation, China Health Care Association
Zhejiang Health Products and Cosmetics Industry Assocaition
Guangdong Health-Care Industry Association
Shanghai Health Care Products Association
Shandong Nutrition Health Food  Industry Association
The Nutrition and Healthcare Industry Alliance of Yangtze River Delta Area
Shenzhen Health Industry Development & Promotion Association
State Level Lhasa Economic-technological Development Area
US-China Health Products Association
U.S. – China Health Products Association
Support:
Committee of Nutrition and Special Food, China Health Culture Association
Shanghai Oriental Century Consumer Goods Development & Promotion Center
Shanghai Business Information Centre Co.,Ltd.
Shanghai Pharmaceutical Trade Association
China Commerce Association for General Merchandise
Global Nutrition Alliance (Beijing) Technical Training Center
Complementary Medicines Australia
Royal Norwegian Consulate General in Shanghai
Innovation Norway
Nordic E- Commerce Association
The Canadian Trade Commissioner Service
Zhongze Media
Xinyingyang.com
Hotfood.com